October 19, 2016
Innovator of the Year
One of the ICI's newest awards recognizes technical accomplishments considered to be significant to the advancement of the investment casting process. Shellcast was chosen for its unique approach to shell room environmental control. The winning entry was for a rotary atomizer that uses high speed centrifugal force to induce large volumes of water vapor into the shell room allowing precise humidity control. Atomizers are commonly found in agricultural applications for chemical spraying and in some cases paired with robots in automotive paint systems. Shellcast's approach allows controlled shell drying and has greatly enhanced process control. The system operates independently of the HVAC system using tap water with an installed cost 90% less than conventional steam-based systems.

October 19, 2016
Casting of the Year
The 63rd Investment Casting Institute's conference was held in Columbus Ohio and Shellcast was awarded the top slot for a commercial casting in the annual contest. This year's entry was a deep water diving helmet casting manufactured for an Eastern European company. The project involved a lengthy design evolution that required converting a problematic bronze casting design to a high strength but lighter weight 316 stainless steel casting. The ICI contest recognizes foundries that best demonstrate the benefits, design flexibility, and the problem solving potential of the investment casting process. This year's recognition is the 2nd contest win for Shellcast in the past five years with three other entries placing in a top 10 position.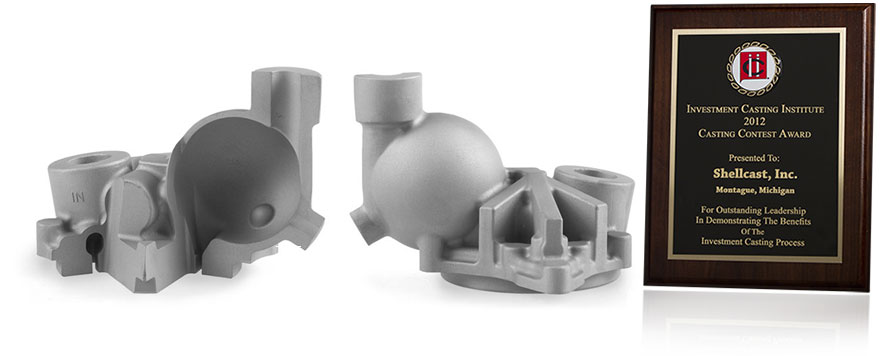 October 8, 2012
Shellcast Receives Top Honors
The 2012 winners of the Investment Casting Institute competition were announced at the 59th annual ICI meeting in Nashville, Tennessee. Shellcast was awarded the top honors for a steel casting in the Aerospace and Military category. With this award comes significant notoriety within the investment casting community and more importantly international recognition as being a technical leader in the industry. It is simply the highest award given for this segment of the casting industry.
The component is used on the main hydraulic pump for an active military aircraft and came to Shellcast after one of the largest casters in the US struggled with production.
Shellcast is committed to a culture of continuous improvement and has developed a highly refined process that now benefits the customer and the aircraft system with an unprecedented product quality and on-time delivery performance.
This award comes from Shellcast's first entry in the ICI competition and establishes technical credibility at the highest level.